William Howard Bradshaw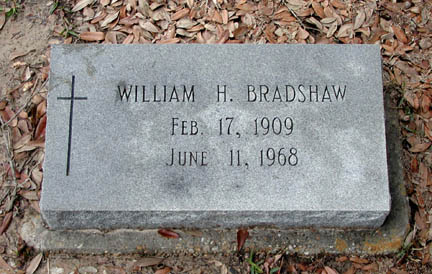 | | |
| --- | --- |
| Born: | February 17, 1909 in Mexico City, Mexico |
| Died: | June 11, 1968 in Lafayette, Louisiana |
| Buried: | June 13, 1968 in Goos Cemetery, Lake Charles, Louisiana (Map 12) |
| | |
| Father: | William Bradshaw |
| Mother: | Alzena Vincent |
| | |
| Wife: | Barbara Helen "Babette" Gallaugher |
| | |
| Married: | July 8, 1940 in The Church of the Immaculate Conception, Lake Charles, Louisiana |
| | |
| Children: | William Francis Bradshaw |
| | James Howard Bradshaw |
| | |
| | |
Lake Charles American Press, June 12, 1968:
W. H. BRADSHAW
LAFAYETTE – A Requiem Mass for William H. Bradshaw, 59, a native of Lake Charles, will be at 8:30 a.m. Thursday from St. John Cathedral here.
Burial will be in the Goos Cemetery in Lake Charles.
A Rosary will be recited at 7 p.m. today in the First National Funeral Home of Lafayette.
Mr. Bradshaw died about 6 p.m. Tuesday in a local hospital after a long illness.
He was an engineer for the Union Texas Petroleum Co. for 35 years.
Survivors include his wife, two sons, one brother, one sister and two grandchildren.