William Francis Bradshaw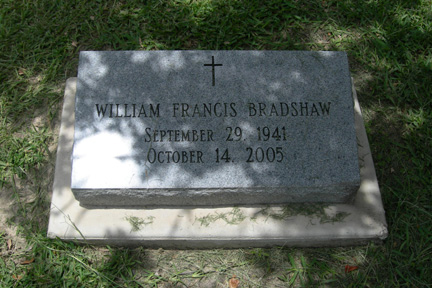 | | |
| --- | --- |
| Born: | September 29, 1941 in Lake Charles, Louisiana |
| Died: | October 14, 2005 in Lafayette, Louisiana |
| Buried: | October 19, 2005 in Goos Cemetery, Lake Charles, Louisiana (Map 12) |
| | |
| Father: | William Howard Bradshaw |
| Mother: | Barbara Helen "Babette" Gallaugher |
| | |
| Wife: | Cheryl Marie Lancon |
| | |
| Married: | April 4, 1964 in Jeanerette, Louisiana |
| Ended: | (Death of wife) |
| | |
| Children: | William Dale Bradshaw |
| | Laurie Marie Bradshaw |
| | Michael John Bradshaw |
| | Jennifer Claire Bradshaw |
| | |
| | |
Lake Charles American Press, Sunday, October 16, 2005, p. A2:
William Francis Bradshaw
A memorial service will be at 1:30 p.m. Wednesday, Oct. 19, 2005, at a Mass of Christian burial from St. Margaret Catholic Church, 2500 Enterprise Blvd., for William Francis Bradshaw, 64. He passed away at 3 a.m. Friday, Oct. 14, in Lafayette Nursing and Rehabilitation. Burial will be in Goss Cemetery in Lake Charles. The Rev. Bill Miller, pastor of St. Margaret Catholic Church, will officiate.
Mr. Bradshaw was a native and resident of Lake Charles for most of his life. He was a parishioner and Eucharistic minister of St. Margaret Catholic Church. He was principal architect of Bradshaw & Associates and had built a number of buildings throughout south Louisiana, notably the federal courthouse in Lake Charles, and was also involved in the restoration of historic buildings, including the Charleston Hotel and Central School.
Survivors include two sons, William Dale Bradshaw of Atlanta and Michael John Bradshaw and his wife, Sarah, of Lafayette; two daughters, Laurie Marie Bradshaw and Jennifer Claire Trahan, both of Lake Charles; three grandchildren, Dylan Trahan, Cameron Duhon and Hunter Bradshaw; and one brother, Jim Bradshaw and his wife, Rose Marye, of Washington.
He was preceded in death by his wife, the former Cheryl Lancon; and parents, William Howard Bradshaw and the former Barbara Helen Gallaugher.
In lieu of flowers, the family requests that donations be made to the St. Vincent de Paul Society.
Visitation is from 12:30 p.m. Wednesday in the church.
Melancon Funeral Home of Carencro, (337) 896-6366, is in charge of arrangements.