Barbara Helen "Babette" Gallaugher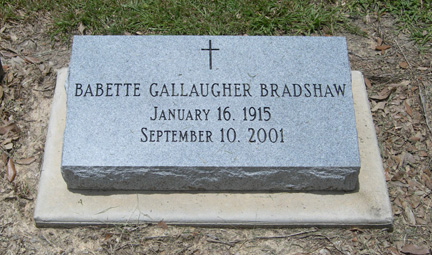 | | |
| --- | --- |
| Born: | January 16, 1915 in Lake Charles, Louisiana |
| Died: | September 10, 2001 in Lake Charles, Louisiana |
| Buried: | September 13, 2001 in Goos Cemetery, Lake Charles, Louisiana (Map 12) |
| | |
| Father: | Francis Valerie Gallaugher |
| Mother: | Barbara Christina "Babette" Fitzenreiter |
| | |
| Husband: | William Howard Bradshaw |
| | |
| Married: | July 8, 1940 in The Church of the Immaculate Conception, Lake Charles, Louisiana |
| | |
| Children: | William Francis Bradshaw |
| | James Howard Bradshaw |
| | |
| | |
Lake Charles American Press, September 12, 2001:
Babette G. Bradshaw
Funeral services for Babette G. Bradshaw, 86, will be at 11 a.m. Thursday, Sept. 13, in Hixson Funeral Home.
The Rev. Aubrey Guilbeau will officiate. Burial will be in Goos Cemetery.
Visitation is 6-9 p.m. today, with a rosary at 7 p.m.
Mrs. Bradshaw died Monday, Sept. 10, 2001, in a local care center.
She was a lifelong resident of Lake Charles. She was a valedictorian graduate of St. Charles Academy. She was a lifetime member of Immaculate Conception Cathedral.
Survivors include two sons, William Bradshaw of Lake Charles and James Bradshaw of Washington, La.; two brothers, Frank Gallaugher of Jennings and Pat Gallaugher of Lake Charles; five grandchildren; and four great-grandchildren.