Marie Ella Bonsall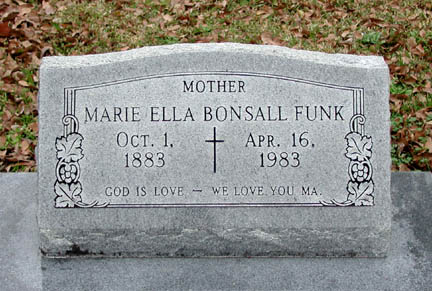 | | |
| --- | --- |
| Born: | October 1, 1883 in Grand Chenier, Louisiana |
| Died: | April 16, 1983 in Lake Charles, Louisiana |
| Buried: | April 19, 1983 in Goos Cemetery, Lake Charles, Louisiana (Map 14) |
| | |
| Father: | Henry J. Bonsall |
| Mother: | Celima (Zelma) Montie |
| | |
| Husband: | Albert Goos Funk, Sr. |
| | |
| Married: | December 24, 1901 in Grand Chenier, Louisiana |
| | |
| Children: | James Albert Funk, Sr. |
| | Thelma Lee Funk |
| | Oma Floy Funk |
| | Bessie Mae Funk |
| | Annie Goos Funk |
| | Albert Goos Funk, Jr. |
| | Della Bel Funk |
| | Ella Marie Funk |
| | |
| | |
Lake Charles American Press, April 17, 1983:
Funk services set for Tuesday
Funeral services for Mrs. Marie Ella (Bonsall) Funk, 99, of 306 Helen St. will be at 2 p.m. Tuesday, April 19, from Immaculate Conception Catholic Church.
The Rev. Vincent Sedita will officiate. Burial will be in Goos Cemetery under direction of Johnson Funeral Home.
Mrs. Funk died at 4 p.m. Saturday in her residence after a lengthy illness.
She was a native of Grand Chenier and was the daughter of Henry and Zelema Bonsall, pioneer settlers of Grand Chenier. She was the widow of Albert Goos Funk Sr. who was a grandson of Capt. Daniel Goos. She was the founder of Funk's Florist and was associated with the flower shop until her retirement in 1968.
Survivors are one son, Albert Goos Funk; five daughters, Oma Floy Funk, Annie Goos Funk, Mrs. Carl (Della Bel) Vick, Mrs. Bessie Heflin and Mrs. Lucius (Marie) Derouen, all of Lake Charles, 16 grandchildren, 27 great-grandchildren, and seven great-great-grandchildren.
Pallbearers will be Carl Vick, Albert Vick, Ronnie Vick, Jack Heflin, Billy Funk, Ted Trammel, Andy Trahan, Jim Benglis, Charles Chassay and John Gillentine.