Oma Floy Funk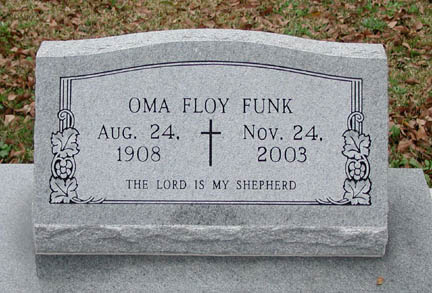 | | |
| --- | --- |
| Born: | August 24, 1908 in Lake Charles, Louisiana |
| Died: | November 24, 2003 in Lake Charles, Louisiana |
| Buried: | November 26, 2003 in Goos Cemetery, Lake Charles, Louisiana (Map 14) |
| | |
| Father: | Albert Goos Funk, Sr. |
| Mother: | Marie Ella Bonsall |
| | |
| | |
| | |
Lake Charles American Press, Tuesday, November 25, 2003, p. A2:
Oma Floy Funk
Oma Floy Funk, 95, died at 4:30 a.m. Monday, Nov. 24, 2003, in her residence.
She was a native and life resident of Lake Charles. Ms. Funk was a descendent of Capt. and Mrs. Daniel Goos and Albert and Marie Bonsall Funk, early pioneer residents of Lake Charles. She began work at the age of 13 with B&M Florist and worked at Duflot's Florist. Later, Ms. Funk, along with her mother and sisters, opened Funk's Florist, which she co-owned and operated for 55 years. She was a member of the Louisiana Wholesale Florist Co-Op and a member of Immaculate Conception Cathedral.
Survivors include two sisters, Della Vick and Marie DeRouen, both of Lake Charles; along with numerous nieces, and nephews.
Her funeral will be at 10:30 a.m. Wednesday, Nov. 26, in Cathedral of Immaculate Conception. The Rev. Aubrey Guilbeau will officiate. Burial will be in Goos Cemetery under the direction of Johnson Funeral Home. Visitation is 3-9 p.m. today, with rosary at 5:30 p.m., and 9-10 a.m. Wednesday in the funeral home. The family especially would like to thank Linda, Vergie, Mary, Natosha, Teara, Cathy, Nadine and Priscilla.