Thelma Lee Funk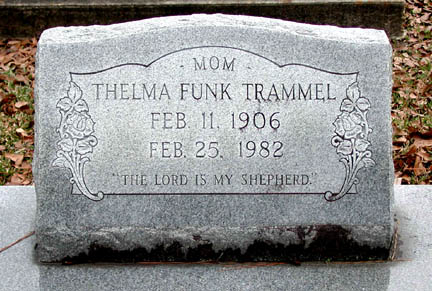 | | |
| --- | --- |
| Born: | February 11, 1906 in Lake Charles, Louisiana |
| Died: | February 25, 1982 in Lake Charles, Louisiana (West Monroe, Louisiana) |
| Buried: | February 27, 1982 in Goos Cemetery, Lake Charles, Louisiana (Map 14) |
| | |
| Father: | Albert Goos Funk, Sr. |
| Mother: | Marie Ella Bonsall |
| | |
| First Husband: | George LeLeux |
| | |
| Married: | January 17, 1924 |
| Divorced: | April 13, 1931 |
| | |
| Child: | Natalie Joyce (LeLeux) Trammel |
| | |
| Second Husband: | Albert Edsel Trammel |
| | |
| Married: | September 3, 1933 |
| | |
| Child: | Ted Arnold Trammel |
| | |
| | |
Lake Charles American Press, February 27, 1982:
MRS. THELMA TRAMMEL
Funeral services for Mrs. Thelma Funk Trammel, 76, of 2200 Barbe Court will be at 3:30 p.m. today, Feb. 27, in Johnson Funeral Home Chapel.
Dr. Bill Lacy, pastor of First Baptist Church, will officiate. Burial will be in Goos Cemetery.
Mrs. Trammel died at 12:40 p.m. Thursday in a West Monroe hospital.
A lifelong resident of Lake Charles, she was a member of First Baptist Church.
Mrs. Trammel was a descendant of Capt. Daniel Goos and a member of a Lake Charles pioneer family. She worked at the family florist.
Survivors include one son, Ted Trammel of Lake Charles; one daughter, Mrs. Natalie Dupuis of West Monroe; her mother, Mrs. Ella Bonsall Funk; one brother, Albert Goos Funk Jr., both of Lake Charles.
Also five sisters, Mrs. Oma Floy Funk, Annie Goos Funk, Mrs. Carl (Della Bel) Vick, Mrs. Bessie Heflin, and Mrs. Lucius (Marie) Derouen, all of Lake Charles; four grandchildren and five great-grandchildren.