George Lock Paret, Sr.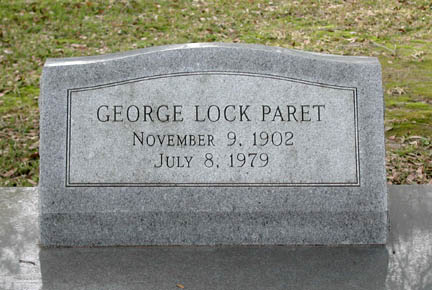 | | |
| --- | --- |
| Born: | November 9, 1902 in Kansas City, Missouri |
| Died: | July 8, 1979 in Lake Charles, Louisiana |
| Buried: | July 9, 1979 in Goos Cemetery, Lake Charles, Louisiana (Map 11) |
| | |
| Father: | Milnor Peck Paret, Sr. |
| Mother: | Letitia Florence Lock |
| | |
| Wife: | Jane Winterhaler |
| | |
| Married: | May 2, 1923 in Baton Rouge, Louisiana |
| | |
| Children: | George Lock Paret, Jr. |
| | Charles Milnor Paret |
| | |
| | |
Lake Charles American Press, July 9, 1979, p. 1:
George Lock Paret Sr. services scheduled today
George Lock Paret Sr., 76, prominent Southwest Louisiana businessman, died at 10:45 a.m. Sunday at his residence at 107 Shell Beach Drive.
Funeral services for Mr. Paret will be at 2 p.m. today, July 9, at the Episcopal Church of the Good Shepherd.
The Rev. Frank Swindle will officiate. Burial will be in Goos Cemetery under direction of Hixson Funeral Home.
Mr. Paret was born in Kansas City, Mo., on Nov. 9, 1902, the son of Milnor Peck Paret and Letitia (Lock) Paret.
He attended Lehigh University in Pennsylvania from 1921-22, then transferred to Louisiana State University, which he attended from 1922 to 1924.
He married Jane Winterhaler on May 23, 1924.
He worked for a time, 1931-32, as a landman with Fisher and Lowery, consulting geologists, in Houston, Texas and moved to Lake Charles in 1932.
Mr. Paret was a divisional landman for Stanoline Oil and Gas Co. from 1932-41, after which he became an independent lease broker.
In 1941 he became president and general manager of Edgewood Land and Logging Co., Ltd. and Lock Moore and Co., Ltd. In the same year, he became president and manager of Goosport Graveyard Endowment and Lock Playground Endowment.
Mr. Paret belonged to many organizations and held executive positions in a number of them.
He served as president for the Calcasieu Area Council Boy Scouts of America, as director for the Southwest Louisiana Fat Stock Show and as president for Lake Charles United Appeals.
He also served as director, member of the executive board, and president fro the Louisiana Forestry Association, as member and chairman for the Louisiana Forestry Commission from 1953-59, and as director and president for the Louisiana Brahman Association and for the American Brahman Breeders Association.
Mr. Paret was a member of the Calcasieu Parish Cattlemen's Association, the Landmen and Oil Scouts Association, Mid-Continent Oil and Gas Association, the Independent Petroleum Association of America, the New Orleans Petroleum Club, Kappa Sigma fraternity and was voted King of Krewe of Contraband in 1970.
He was also a member of the Pioneer Club and Lake Charles Golf and Country Club.
Mr. Paret was known for having sold more beef animals for 4-H and FFA exhibitors than any other man in the state. He sold cattle worldwide and won awards in various contests.
He was also responsible for a donation of land to the Boy Scouts for Camp Edgewood.
In 1976 the Southwest District Fat Stock Show was dedicated to Mr. Paret and in 1977 he was honored by the Calcasieu Cow Belles as the father of "Beef for Father's Day."
Survivors include his wife, Mrs. Jane Winterhaler Paret; two sons, George Lock Paret, Jr., and Charles Milnor Paret, both of Lake Charles, and five grandchildren.
Pallbearers will be George L. Paret III, Melvin P. Paret, John M. Paret, Edward Lock Anderson, Robert Anderson and Milnor Weeks.