Charles Milnor Paret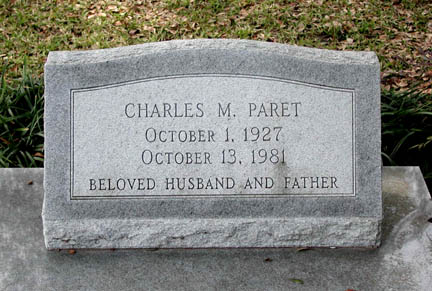 | | |
| --- | --- |
| Born: | October 1, 1927 in Lake Charles, Louisiana |
| Died: | October 13, 1981 in Lake Charles, Louisiana |
| Buried: | October 14, 1981 in Goos Cemetery, Lake Charles, Louisiana (Map 11) |
| | |
| Father: | George Lock Paret, Sr. |
| Mother: | Jane Winterhaler |
| | |
| Wife: | Gloria Manuel |
| | |
| Married: | December 15, 1952 in Lake Charles, Louisiana |
| | |
| Child: | John Milnor Paret |
| | |
| | |
Lake Charles American Press, October 14, 1981:
CHARLES M. PARET
Funeral services for Charles Milnor Paret, 54, of 2101 21st St. will be at 2:30 p.m. today, Oct. 14, in St. Michael and All Angels Episcopal Church.
Rev. Ralph L. Masters, rector, will officiate. Burial will be in Goos Cemetery with Hammer Funeral Home in charge.
Mr. Paret died at 4:15 a.m. Tuesday in a local hospital.
He was a lifelong resident of Lake Charles and was a descendant of two pioneer families. He was formerly associated with his father, the late G. L. Paret of Edgewood Land and Logging Co., Lock-Moore Lumber Co., and Paret Ranch.
Survivors include his wife, Mrs. Gloria Manuel Paret; one son, John M. Paret; his mother, Mrs. George Lock Paret, and one brother, George L. Paret, Jr., all of Lake Charles.
Pallbearers will be Herbert Myers, Marvin Bebee, John W. Manuel, James B. Manuel, Larry G. Manuel and George L. Paret III.
If they wish, friends may make memorial donations to St. Michael and All Angels Episcopal Church or the American Cancer Society, the family said.