George Lock Paret, Jr.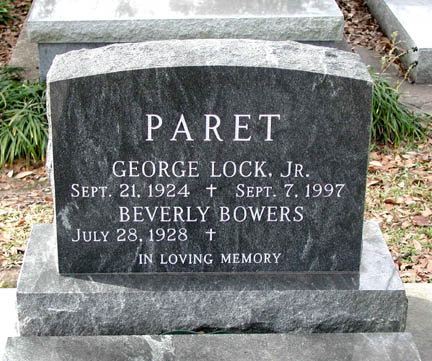 | | |
| --- | --- |
| Born: | September 21, 1925 in Lake Charles, Louisiana |
| Died: | September 7, 1997 in Lake Charles, Louisiana |
| Buried: | September 9, 1997 in Goos Cemetery, Lake Charles, Louisiana (Map 11) |
| | |
| Father: | George Lock Paret, Sr. |
| Mother: | Jane Winterhaler |
| | |
| Wife: | Beverly Bowers |
| | |
| Married: | August 6, 1949 in Canon, Georgia |
| | |
| Children: | George Lock Paret, III |
| | Melvin Peck Paret |
| | Frances Jane Paret |
| | Beverly Gray Paret |
| | |
| | |
Lake Charles American Press, September 8, 1997, p. A2:
Paret services Tuesday
Funeral services for George Lock Paret Jr., 72, a member of a pioneer South Louisiana family, will be at 2 p.m. Tuesday, Sept. 9, in the Episcopal Church of the Good Shepherd.
The Revs. Mark Holland, Eugene Kohlbecker and Jim Reed will officiate. Burial will be in Goos Cemetery under direction of Hixson Funeral Home.
Visitation is from 4-6 p.m. today and from 8 a.m.-noon Tuesday in the funeral home; and from 1 p.m. Tuesday in the church.
Mr. Paret died at 4:48 a.m. Sunday, Sept. 7, 1997, in a Lake Charles hospital.
He was the great-grandson of Capt. George Lock and Ellen Goos, and William Paret, the sixth Episcopal Bishop of the State of Maryland. He was the son of George Lock and Jane Winterhaler Paret.
A graduate of Lake Charles High School and New Mexico Military Institute, he served as a second lieutenant in the U. S. Air Force during World War II.
He attended Louisiana State University where he was member of Kappa Sigma Fraternity. He received a B.S. in forestry from McNeese State University.
During his career as a forester, cattleman, and oil broker, Paret served as past president of the American and Louisiana Brahman Breeders Association, the Louisiana Forestry Association, and Lock Playground Endowment.
He served as a board member for Edgewood Land and Logging Co., Lock-Moore Co., Boy Scouts of America, Paret Ranch, Episcopal Day School, and Goosport Memorial Cemetery.
He is survived by his wife, Beverly Bowers Paret; two sons, George Lock Paret III of Lake Charles and Melvin P. Paret of Arlington, Va.; two daughters, Frances Walker and Beverly Reddin, both of Lake Charles; and eight grandchildren.
Memorials may be made to the Bishop Noland Episcopal Day School, the Boy Scouts of America, and the McNeese State University Foundation, the family said.