Irene Moeling Paret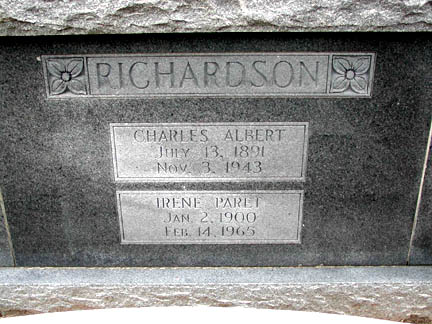 | | |
| --- | --- |
| Born: | January 2, 1900 in Kansas City, Missouri |
| Died: | February 14, 1965 in Lake Charles, Louisiana |
| Buried: | February 15, 1965 in Goos Cemetery, Lake Charles, Louisiana (Map 1) |
| | |
| Father: | Milnor Peck Paret, Sr. |
| Mother: | Letitia Florence Lock |
| | |
| First Husband: | Richard Hammond Weeks, Sr. |
| | |
| Married: | May 21, 1916 in Oakland, California |
| Ended: | |
| | |
| Children: | Katherine Bel Weeks |
| | Richard Hammond Weeks, Jr. |
| | |
| Second Husband: | Fred Shields |
| | |
| Married: | |
| Ended: | |
| | |
| Third Husband: | Lewis C. Smith |
| | |
| Married: | November 26, 1924 in Alexandria, Louisiana |
| Annulled: | October 28, 1925 |
| | |
| Fourth Husband: | McCarthy |
| | |
| Married: | |
| Ended: | |
| | |
| Fifth Husband: | Charles Albert Richardson |
| Ended: | November 2, 1943 in Lake Charles, Louisiana (death of husband) |
| | |
| Married: | November 12, 1932 in Lake Charles, Louisiana |
| Ended: | |
| | |
| Sixth Husband: | Joseph Gay |
| | |
| Married: | |
| Ended: | |
| | |
| | |
November 12
Richardson-McCarty
Wide interest attaches to the marriage of Mrs. Irene Paret McCarty to Mr. Charles Albert Richardson which took place Sunday afternoon at the home of the bride's parents, Mr. and Mrs. M. P. Paret, 904 Broad street, Lake Charles, La., with only members of the families attending.
Mr. and Mrs. Richardson will make their home in Lake Charles. Mr. Richardson, a son of Mrs. Maude Gerald Richardson of this city, is a well-known oil operator in Texas and Louisiana.
Lake Charles American Press, February 15, 1965, p. 1:
Mrs. Irene P. Richardson Dies; Rites Set
Funeral services for Mrs. Irene Paret Richardson, 65, of 2032 23rd St. were to be held at 4 p.m. today in the Episcopal Church of the Good Shepherd.
The Rev. Harold R. Bott, rector of St. Michael and All Angels Episcopal Church, was to officiate. Burial was to be in Goos Cemetery with the Hammer Funeral Home in charge.
Mrs. Richardson, a member of a pioneer Lake Charles family, died unexpectedly at her home Sunday.
She was a native of Kansas City, Mo., and had lived in Lake Charles since early childhood.
Active in the auxiliary of St. Patrick Hospital, Mrs. Richardson had served as president and was also active in the Women's Auxiliary of the Church of the Good Shepherd and in other church affairs.
She was a past president of the Calcasieu unit of the American Cancer Society and had taken an active part in many other civic and community programs. She was also a member of the Lake Charles Country club.
Mrs. Richardson's parents were Letitia Lock Paret and Milnor P. Paret. She was a descendant of Capt. David (sic) Goos and Capt. George Lock, early schooner captains of the area.
Survivors are one son, Richard H. Weeks; one daughter, Mrs. Richard Anderson, both of Houston, Tex.; two brothers, G. Lock Paret of Lake Charles and Milnor P. Paret of El Paso, Tex.; one sister, Mrs. Helen Van Dunk of Lake Charles; 10 grandchildren and one great-grandchild.
Pallbearers will be Grey Little, G. Lock Paret Jr., Charles M. Paret, Hugh Shearman, James E. Taussig and Thomas C. Hall.
If they wish, friends may make memorial donations to the Ladies Auxiliary of St. Patrick Hospital, the family said.

Return to Irene Moeling Paret and Charles Albert Richardson.