Charles Albert Richardson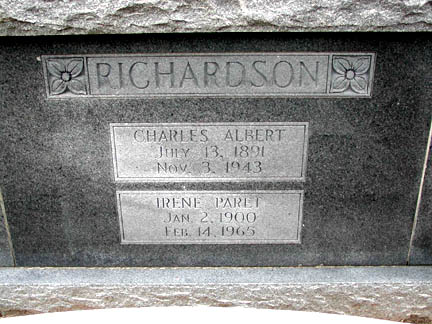 | | |
| --- | --- |
| Born: | July 13, 1891 in Waco, Texas |
| Died: | November 2, 1943 in Lake Charles, Louisiana |
| Buried: | November 4, 1943 in Goos Cemetery, Lake Charles, Louisiana (Map 1) |
| | |
| Father: | |
| Mother: | |
| | |
| Wife: | Irene Moeling Paret |
| | |
| Married: | November 12, 1932 in Lake Charles, Louisiana |
| | |
| | |
C. A. Richardson Dies Tuesday
---*---
Prominent Business Man of City Dies During Night
CHARLES ALBERT RICHARDSON, 52, prominent local business man and civic leader, died suddenly at his home at Prien Lake, Tuesday night at 11 o'clock. Mr. Richardson had been ill for a short time.
He was born in Waco, Texas, July 13, 1891, and moved, with his parents to Beaumont in 1903, where he made his home for many years. He came to Lake Charles in 1922, and has been active in oil interests in this section for many years.
Mr. Richardson was past commander of the W. B. Williamson Post of the American Legion, and was a member of the vestry of the Church of the Good Shepherd at the time of his death. He was three times president of the Lake Charles Little Theater, and was prominent in all educational and cultural activities of the community.
He was married to Mrs. Irene Paret Weeks on November 12, 1932, and for the last few years has made his home at Prien Lake.
Survivors are his wife; a son Lt. (j.g.) Richard Weeks; a daughter, Mrs. Richard Anderson, all of Lake Charles; his mother, Mrs. Maude Richardson; four sisters, Mrs. Horace Boyette, Mrs. Geraldine Goodhue, Miss Maude Richardson, all of Beaumont, and Mrs. C. C. Aldrich of Port Arthur, Texas; two brothers N. O. Richardson of Beaumont, and Gerald Richardson of Lafayette, La.
Funeral services will be held at the home of George Lock Paret, 904 Broad street, Thursday morning at 10:30 o'clock, Rev. George F. Wharton, rector of the Church of the Good Shepherd officiating. Burial will be at the Goos cemetery in Goosport.
Active pallbearers will be John J. Doyle, Edgar Miller, H. R. McGlasson, Dr. Paul Quilty, J. A. MacLeod, Captain W. B. Nash, Dr. G. C. McKinney and R. L. Cline.
Honorary pallbearers are John L. Henning, D. R. Bertaut, P. L. Pitts, W. W. Thompson, Ward Anderson, George Woodard.
Return to Irene Moeling Paret and Charles Albert Richardson.