Herman Carl Krause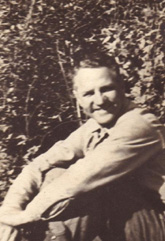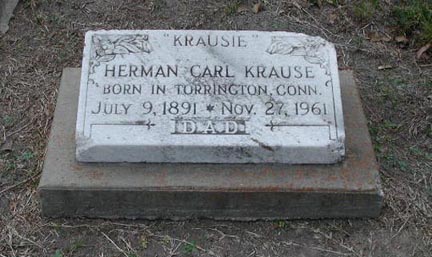 Born:
July 9, 1891 in Torrington, Connecticut
Died:
November 27, 1961 in Lake Charles, Louisiana
Buried:
November 29, 1961 in Goos Cemetery, Lake Charles, Louisiana (Map 10)
Father:
Frederick William Krause
Mother:
Caroline Amalia Goodman
Wife:
Frances Florence McCain
Married:
March 30, 1922
Child:
Fritzi Krause
Lake Charles American Press, November 28, 1961, p. 1:
H. C. Krause Dies After Long Illness
Herman C. Krause, 70, a retired landman for Edgewood Land and Logging company and the Locke-Moore Lumber company, died at 1 p.m. Monday at his home, 512 Ford street, after a long illness.
Funeral services are set for 3 p.m. Wednesday in the Burke-Hammer funeral home chapel. Burial will be in the Goos cemetery.
Mr. Krause, a native of Torrington, Conn., moved to Lake Charles during World War I. He was a military airplane pilot during the war and was stationed at Gerstner Field near here.
Mr. Krause's daughter, Mrs. David Wilson, is the former Fritzi Krause, formerly a reporter for the Lake Charles American Press.
The family asks that donations be given the Heart Fund or Boys' Village in lieu of flowers.
Survivors, in addition to Mrs. Wilson, are one sister, Miss Pauline A. Krause of Torrington, Conn., and a brother, Henry A. Krause of Waterbury, Conn.
Pallbearers will be G. Lock Paret, G. Lewis Dunn, Patrick D. Gallaugher, Dr. Boyd M. Woodard, all of Lake Charles, Leo Fitzenreiter of Sulphur, Frank Gallaugher of Jennings, Raymond E. Gipson of Orange, Texas, and Eddie L. Corbello of Fenton.