Florence Beatty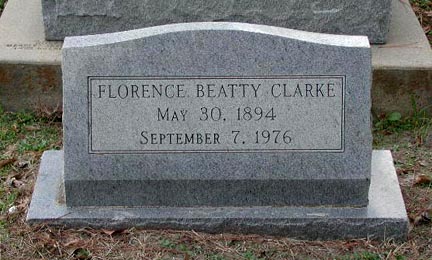 | | |
| --- | --- |
| Born: | May 30, 1894 in New Orleans, Louisiana |
| Died: | September 7, 1976 in Lake Charles, Louisiana |
| Buried: | September 7, 1976 in Goos Cemetery, Lake Charles, Louisiana (Map 9) |
| | |
| Father: | James Wilson Beatty |
| Mother: | Annie Relief Goos |
| | |
| Husband: | Rochester Clarke |
| | |
| Married: | November 10, 1940 in Houston, Texas |
| | |
| | |

BEATTY-CLARKE
WEDDING IN HOUSTON SUNDAY
Claiming much interest in Lake Charles will be the announcement of the marriage of Miss Florence Beatty and Mr. Rochester Clarke, both of this city, which was solemnized Sunday afternoon at the home of Mr. and Mrs. Harry C. Hanszen, 2945 Lazy Lane, in Houston, Texas.
The ceremony took place at 5 o'clock in the presence of a small group of relatives, Bishop Quinn of the Episcopal church reading the single ring service in a beautiful setting of white chrysanthemums.
The bride, given in marriage by Mr. Hanszen, wore an exquisite dinner gown, a delicate shade of gray, with a corsage of orchids and lilies of the valley. The bridegroom was attended by his brother, Mr. George W. Clarke.
Following the ceremony a buffet supper was served. The wedding cake was embossed in gardenias and the ices were molded into gardenias.
Mr. and Mrs. Clarke left Sunday evening for New Orleans, and took the noon plane today for New York where they will spend their honeymoon. Upon their return they will reside at 905 Eleventh Street, in Lake Charles.
Those from Lake Charles attending the wedding were: Mrs. George W. Clarke, the bridegroom's mother, Miss Henrietta Clarke, his sister, and Mr. George W. Clarke, his brother; Miss Ida Winter, Mr. and Mrs. A. F. Severs, the bride's uncle and aunt, Mr. and Mrs. David L. Garrison, and Mr. and Mrs. Rudolph E. Krause, her cousins.
From Houma, Mrs. S. D. Jastremski, Mrs. Clarke's sister, and Miss Florence Jastremski, her niece. Guests from Houston were: Mrs. Katherine Gardiner Glassell, the bride's cousin, Mr. and Mrs. Verle Witham, Mr. Clarke's cousins, Mr. and Mrs. Mike Hogg, Mr. and Mrs. James Cain and Mr. and Mrs. Henry DeBrazon.

Lake Charles American Press, Tuesday, September 7, 1976, p. 2:
Florence Clarke
LAKE CHARLES – Funeral for Florence Beatty Clarke, 82, will be at 2 p. m. today in Hixson Funeral Home with burial in Goos Cemetery.
Mrs. Clarke died at 6:05 a.m. Tuesday in a local nursing home. A native of New Orleans, she had lived here most of her life. She was a graduate of Louisiana Normal College at Natchitoches and taught at Second Ward School here.
Survivors include one sister, Mrs. S. D. Jastremski of Houma.