Annie Relief Goos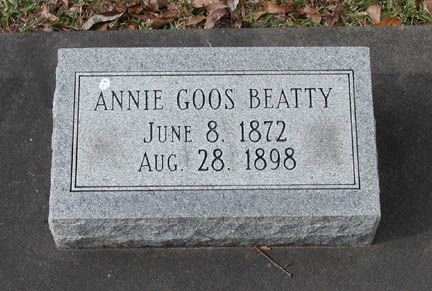 Born:
June 8, 1872 in New Orleans, Louisiana
Died:
August 28, 1898 in New Orleans, Louisiana
Buried:
August 30, 1898 in Goos Cemetery, Lake Charles, Louisiana (Map 9)
Father:
Daniel Johannes Goos, Jr.
Mother:
Florence Augusta Flanders
Husband:
James Wilson Beatty
Born:
May 19, 1870 in Belfast, Ireland
Died:
April 5, 1927 in Belfast, Ireland
Married:
July 18, 1893 in New Orleans, Louisiana
Children:
Florence Beatty
Annie Relief Beatty
New Orleans Daily Picayune, August 29, 1898:
BEATTY – On Sunday, Aug. 28, 1898, at 7 o'clock p.m., at her residence, 925 Independence street, ANNIE R. GOOS, wife of James W. Beatty, aged 26 years and 2 months, a native of New Orleans.
Interment will take place Tuesday, Aug. 30, 1898, at Lake Charles, La.
Lake Charles, La., Taylor and Laredo, Tex., and Belfast, Ireland, papers please copy.