Florence Augusta Flanders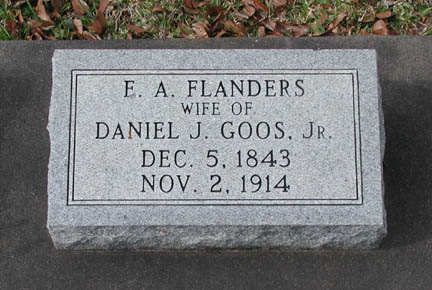 | | |
| --- | --- |
| Born: | December 5, 1843 in New Orleans, Louisiana |
| Died: | November 2, 1914 in Lake Charles, Louisiana |
| Buried: | November 4, 1914 in Goos Cemetery, Lake Charles, Louisiana (Map 9) |
| | |
| Father: | Wardwell Clement Flanders |
| Mother: | Anna Cunningham |
| | |
| Husband: | Daniel Johannes Goos, Jr. |
| | |
| Married: | August 6, 1871 in New Orleans, Louisiana |
| | |
| Children: | Annie Relief Goos |
| | Florence Augusta Goos |
| | Maggie Louise Goos |
| | |
| | |
Florence Augusta Flanders's brother, Willie Wardwell Flanders, married Daniel Johannes Goos, Jr.'s sister, Katherine Goos.

Lake Charles Weekly American-Press, Friday, November 6, 1914:
DIED AFTER SEVERAL
YEARS OF ILLNESS
-----
[From Monday's Daily]
Mrs. Florence A. Goos, one of the old residents of Lake Charles, passed away at her home in Mill street last night. The deceased was sixty-nine years old. She had been ailing for the past four years with paralysis.
Mrs. Goos was a native of New Orleans and would have celebrated her sixty-ninth birthday next month. Her maiden name was Miss Florence A. Flanders, and she was a daughter of the late Captain W. C. Flanders. She was married in New Orleans to Daniel J. Goos and came to Lake Charles in 1871. With the exception of about a year in 1878-9 when she lived in New Orleans she has resided here ever since.
Mrs. Goos is survived by two daughters, Mrs. A. F. Severs and Miss Florence Goos, two grandchildren, Annie and Florence Beatty, and one brother, W. W. Flanders. Besides these she was connected more distantly with some of the leading families in the state.
Funeral services will be held at the home at 801 Mill street at 10 a.m. tomorrow, Rev. K. W. Dodson of the Broad Street M. E. church officiating. Interment will take place in the Goosport cemetery.