Walter Stewart Goos, II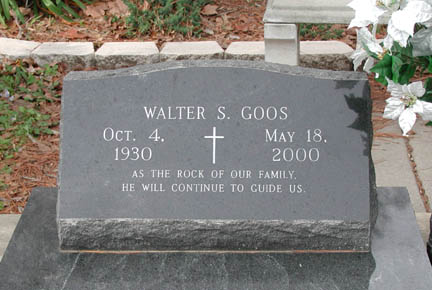 | | |
| --- | --- |
| Born: | October 4, 1930 in Lake Charles, Louisiana |
| Died: | May 18, 2000 in Lake Charles, Louisiana |
| Buried: | May 20, 2000 in Goos Cemetery, Lake Charles, Louisiana (Map 4) |
| | |
| Father: | Walter John Goos |
| Mother: | Rena Vivian Materne |
| | |
| Wife: | Delta Marie Broussard |
| | |
| Married: | March 25, 1951 in Lake Charles, Louisiana |
| | |
| Children: | Kim Stewart Goos |
| | Dana Marie Goos |
| | Brady Paul Goos |
| | |
| | |
Lake Charles American Press, Friday, May 19, 2000, p. A2:
Walter Goos
Funeral services for Walter "Buddy" Goos, 69, will be at 10:30 a.m. Saturday, May 20, from Our Lady Queen of Heaven Catholic Church.
The Rev. Danny Torres will officiate. Burial will be in Goos Cemetery under the direction of Johnson Funeral Home.
Visitation is 3-10 p.m. today, with a Scripture service at 6 p.m.; and 8-10 a.m. Saturday in the funeral home.
Mr. Goos died at 12:14 p.m. Thursday, May 18, 2000, in his residence.
He was a lifelong resident of Lake Charles and was a graduate of Lake Charles High School. He was a retired Citgo unit supervisor and worked with the company for 49 years. He was the president of the Goos Cemetery Association.
Survivors include his wife, Delta Marie Broussard Goos of Lake Charles; two sons, Kim Goos of Jacksonville, Fla., and Brady Goos of Lake Charles; one daughter, Dana Marie Goos Fleming of Lake Charles; one sister, Marilyn LaFarque of Alexandria; one brother, Jerry Goos of Big Lake; and three grandchildren.