Milnor Peck Paret, Jr.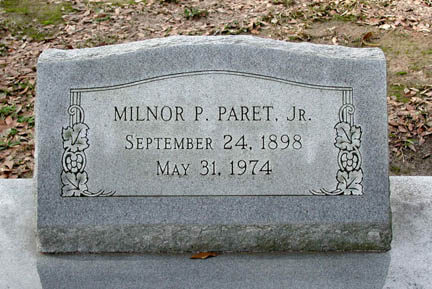 SW LA. SUCCESS STORY
Paret Climbed Success Ladder
To Leadership in Three Oil Firms
From plant helper to oiler to operator; from supervisor to foreman to superintendent and on to vice president. Milnor Peck Paret Jr. has found a veritable ladder of success his for the climbing.
He was not born out of touch with success, for his grandfather, Captain George Lock, made a fortune from Louisiana forests in the early years of the Lake Charles area.
But "Mil" – as he was called by his close friends – was not content to rest on the laurels and wallet of his industrialist grandfather; instead, he left home to seek his own.
Today the Lake Charles native is the vice president of the California Oil company, vice president of the Standard Oil company of Texas, vice-president of the PasoTex Pipe Line company, and one of the leaders of his community of El Paso, Texas.
Being a leader was not difficult for Mil, however. In his prep school years he captained the track and basketball teams and lettered in football; at the University (Leheigh, in Bethlehem, Pennsylvania) he captained the track team and lettered in basketball.
And besides throwing himself into sports with the single-mindedness of purpose that marks all his exploits, he was at the same time representing his fraternity at Lehigh on the Inter-fraternity Council.
He never returned to Lake Charles to live, but his family still resides here. He has two sisters, Mrs. Irene Richardson, and Mrs. Helen Dunk, and a brother, G. L. Paret, now in Lake Charles. But Milnor Paret moved his own family to El Paso.
In El Paso, where he has lived for a number of years, Mil Paret is a highly-respected member of the community and a leader in a number of civic enterprises.
He has been the director of the El Paso Chamber of Commerce, president and director of the Kiwanis club in El Paso, and chairman of the El Paso county Savings Bond campaign. And in June of this year he was appointed president of the El Paso Better Business Bureau.
Such a list of accomplishments and recognitions indicates that Mil Paret is a well-liked and responsible leader with a wide range of interests. Yes his interests are not limited to sports, petroleum, and civic enterprise.
A lively interest in the arts has resulted in his appointment as director of the El Paso Symphony association and as the director of the El Paso Fine Arts committee.
That Milnor Peck Paret Jr. has made himself a leader in each field of his endeavor cannot be denied. Neither can it be denied that he has become a name, and a part of all that he has met.

Oil Executive Milnor Paret Services Set
Milnor P. Paret Jr., 75, of 7351 Franklin, retired oil executive, died Friday in his home.
Funeral services for Mr. Paret will be at 5 p.m. Saturday in St. Christopher's Church, the Rev. Kenneth Rice officiating. The casket will be open until time of services in Harding-Orr & McDaniel Montana Funeral Home. Burial will be in Lake Charles, La.
Mr. Paret was retired vice president of California Oil Co. and Standard Oil Co. of Texas.
A native of Lake Charles, he attended Kemper Military School, the University of California at Berkeley and Lehigh University, where he received a civil engineering degree.
He served in the U.S. Army as a second lieutenant during World War I.
He was first employed by Pacific Oil Co. and General Die Casting Co., and later by California and Standard Oil Cos. After working as a draftsman and in other positions in California, he was made foreman of a natural gasoline plant in Ward County, Tex., in 1936.
In 1941 he was engineer at the El Paso refinery and in 1944 became superintendent of PasoTex Pipe Line Co. In 1946 he was named vice president of Standard Oil Co. of Texas and PasoTex, and was later a director of both firms and of Cal-Tex Refining Co., and vice president and director of PasoTex Petroleum Co., Standard Stations, Inc., of New Mexico, and California Oil Co., Western Division, and was in charge of the latter company's Salt Lake City, Utah, and El Paso refineries. He retired in 1963.
Mr. Paret received the U.S. Treasury Award for chairmanship of the U.S. Savings Bond program in El Paso. He was a past director of the El Paso Chamber of Commerce, Texas Mid-Continent Oil and Gas Association, United Fund of El Paso, El Paso Symphony Association, El Paso Fine Arts Committee and the International Club, and had served as president of the Kiwanis Club of El Paso and the Better Business Bureau, and as regional vice president of the Texas Manufacturers Association. He was active in the National Conference of Christians and Jews, Industrial Petroleum Institute, Citizens Safety Council, the 25-Year Club of the Petroleum Industry, Pipe Liners Club, Association of the U.S. Army, Sigma Chi fraternity and the El Paso Country Club. He was a member of St. Christopher's Episcopal Church.
Mr. Paret is survived by his widow.