Lucius Donald DeRouen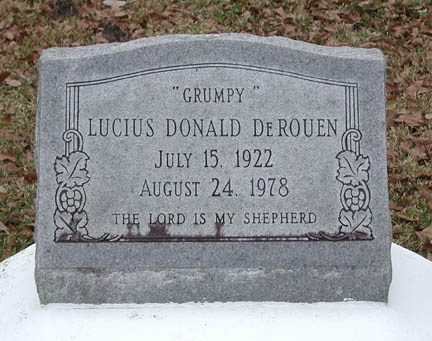 | | |
| --- | --- |
| Born: | July 15, 1922 in Sulphur, Louisiana |
| Died: | August 24, 1978 in Lake Charles, Louisiana |
| Buried: | August 26, 1978 in Goos Cemetery, Lake Charles, Louisiana (Map 14) |
| | |
| Father: | William Joseph DeRouen |
| Mother: | Aspazie Borel |
| | |
| Wife: | Ella Marie Funk |
| | |
| Married: | December 27, 1941 in Lake Charles, Louisiana |
| | |
| Children: | Janice Marie DeRouen |
| | Rebecca Therese DeRouen |
| | |
| | |
Lake Charles American Press, August 25, 1978:
Banker's funeral services Saturday
Funeral services for Lucius "Lou" D. DeRouen, 56, of 1509 14th St. and vice president of a local bank, will be at 2 p.m. Saturday, Aug. 26, from St. Margaret Catholic Church.
The Rev. Ferdinand Gouaux and Deacon Harry E. Wagner Jr. will officiate. Burial will be in Goos Cemetery under direction of Hixson Funeral Home.
A Rosary will be said at 7:30 p.m. today, Aug. 25, in the funeral home chapel.
Mr. Derouen died at 6 a.m. Thursday in a Houston hospital.
A native of Sulphur, he had resided in the Lake Charles area most all of his life.
He was employed as the senior loan officer and vice president of First National Bank of Lake Charles.
He attended McNeese State College, was a graduate of the University of Colorado Installment Banking School, and had completed a number of A. I. B. courses.
He served under Gen. George Patton in the 2730 Infantry, 7th Armor Division, 129th Ordinance Maintenance Company in the European Theatre from Aug. 6, 1940 to Sept. 23, 1945.
Mr. DeRouen was a member of St. Margaret Catholic Church, the church Altar Society and the Kiwanis Club.
Survivors are his wife, Mrs. Marie Funk DeRouen; and two daughters, Mrs. Janice Chassay of Houston, and Mrs. Rebecca Benglis of Lake Charles.
Also, four sisters, Mrs. Aline Perry of Sulphur, and Mrs. Ada Latta, Mrs. Willie Mae Pellegrin and Mrs. Dorothy Schexneider, all of Houma; two brothers, Vernice DeRouen of Sulphur and Dallas DeRouen of Orange, Tex., and four grandchildren.
Pallbearers are Roy Rafferty, Bill Davis, James Laughlin, Harry Hollins, Gilbert Gilliland, Newton Marceaux, Charles Bernier and Ray Valdetero.
Honorary pallbearers will be Art Hollins, Jerry Campbell, Bob Fairchild, Charles Thomas, Harry Wagner Jr., Artie Burnett, Eddie McCormick, Fred Johnson, Kay Kohler, Frank Kay and the officers and directors of First National Bank.