Frederick Andrew Tieman, Jr.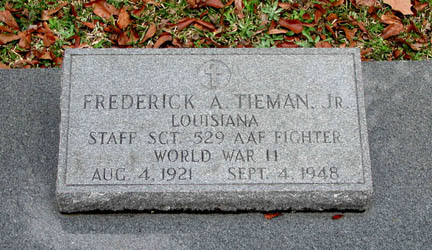 | | |
| --- | --- |
| Born: | August 4, 1921 in Vinton, Louisiana |
| Died: | September 4, 1948 in Goliad, Texas |
| Buried: | September 7, 1948 in Goos Cemetery, Lake Charles, Louisiana (Map 1) |
| | |
| Father: | Frederick Andrew Tieman, Sr. |
| Mother: | Irma Letitia Lock |
| | |
| Wife: | Maxine Elizabeth Crawford |
| | |
| Married: | April 21, 1946 in Orlando, Florida |
| | |
| Child: | Elaine Adair Tieman |
| | |
| | |
Funeral Services To Be Held Monday for F. A. Tieman, Jr.
Funeral services for Fred A. Tieman, Jr., 27, of Goliad, Texas, former resident of Vinton whose parents reside in Lake Charles, will be held at 4 p.m. tomorrow in the Hixson funeral home with the Rev. George F. Wharton, rector of the Episcopal Church of the Good Shepherd, officiating.
Burial will be in Goos cemetery.
Mr. Tieman reportedly died of polio at 2:30 p.m. Saturday in the Brooks General hospital in San Antonio, local friends and relatives were notified. He was stricken suddenly Friday at his home in Goliad and was taken to San Antonio Saturday morning.
A rancher, Mr. Tieman had lived in Goliad for about two years. He was a native of Lake Charles and had resided in Vinton for many years.
He was a graduate of Vinton high school and had attended Texas A. & M. college. His parents, prominent Vinton residents and well known in this area, moved to Lake Charles in the latter part of April when their Vinton home was destroyed by fire.
Survivors include his wife and daughter, Elaine, both of Goliad; his father and mother, the former Miss Irma Lock of Lake Charles; and a sister, Miss Elaine Tieman, also of Lake Charles.
Pallbearers will be Lock Paret, Jr., and Albert Miller, both of Lake Charles; Fred Lock Benckenstein of Beaumont, Texas, Bud Pickett, J. L. Reed and J. W. Shaw, Jr., all of Vinton.

Rites Held At Lake Charles For F. A. Tieman, Jr.
Funeral services for Frederick A. Tieman, Jr., 27, were held at 4 o'clock Tuesday afternoon in Lake Charles, Louisiana. His death in Brooks General Hospital, San Antonio, after an short illness that began last Wednesday came as a shock to his many friends.
He had been ill at his home on the John McCampbell farm west of Goliad until Saturday morning when his condition became critical. His illness was diagnosed as a dangerous type of poliomyelitis and he was rushed to the San Antonio hospital where he died shortly after arrival.
Survivors include his wife, Mrs. Maxine Tieman; an infant daughter, Elaine; his parents, Mr. and Mrs. Frederick A. Tieman, Sr., of Lake Charles; and a sister, Miss Elaine Tieman of Lake Charles.
Mr. Tieman was born in Lake Charles on August 4, 1921. During his boyhood he visited frequently with Goliad relatives and formed many lasting friendships here. On October 10, 1942, he entered the United States Army Air Corps and served until 1946 when he was discharged as a Staff Sergeant. He served eight months overseas in the Asiatic-Pacific theater including duty in China.
In April of 1946 he was married to Miss Maxine Crawford, daughter of Mr. and Mrs. E. A. Crawford of Orlando, Florida. They made their home in Goliad shortly afterwards and Mr. Tieman became associated with Mr. McCampbell in the management of his farm.
Mr. Tieman was a member of the vestry of St. Stephen's Episcopal Church here and a charter member of the 20-20 Club. He was a member of the local American Legion Post and during the past year served as adjutant.