Elmina Martha "Ellen" Goos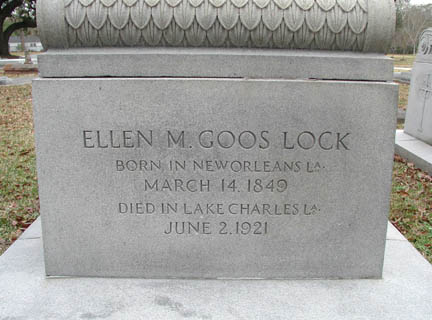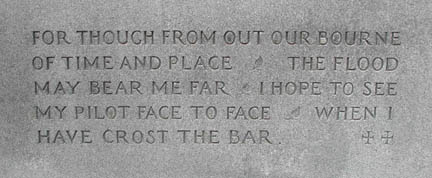 | | |
| --- | --- |
| Born: | March 14, 1849 in New Orleans, Louisiana |
| Died: | June 2, 1921 in Lake Charles, Louisiana |
| Buried: | June 3, 1921 in Goos Cemetery, Lake Charles, Louisiana (Map 2) |
| | |
| Father: | Captain Daniel Johannes Goos |
| Mother: | Katarina Barbara Moeling |
| | |
| Husband: | George Lock |
| | |
| Married: | May 15, 1869 in Lake Charles, Louisiana |
| | |
| Children: | Daniel Henry Lock |
| | Frederick Goos Lock |
| | Letitia Florence Lock |
| | George Thomas Lock, Sr. |
| | |
| | |
Lake Charles American Press, July 1, 1918:
The residents of the south part of town are certainly enjoying the new park given the city by Mrs. Lock.
Every evening after the sun gets low and the people go out to enjoy the cool of the day, the park is filled and everybody, children and adults too, enjoy the beautiful park to their hearts' content.
This is the first time Lake Charles people have had a park to visit, and they are making the most of their opportunity. Perhaps the most popular feature is the wading pool. This pool is about 30 x 40 feet with a nice white sand bottom.

Mrs. George Lock
Born March 14, 1849. Died June 3, '21.
Ellen Martha Goos: born in the city of New Orleans March 14th, 1849; married at the family home in Goosport to George Lock May 15th, 1869; died in Lake Charles June 3rd, 1921.
This is the short and simple annal compressed in dull words of one of the most gracious of God's chosen women, one whom adversity could not discourage nor prosperity spoil. An entire city bent its head at her passing and tears were shed in many an humble home -- a tribute most precious.
Mrs. Lock's life was passed so quietly and unostentatiously, so utterly unspoiled by her great wealth and social position that many who knew her intimately were unacquainted with some of the details of her family life, which it is the writer's mournful privilege to here set forth.
Four children were born of the marriage of Capt. George Lock and Ellen Goos: Daniel Henry, who died when but a few months old; Fred Goos Lock, Mrs. Letitia Paret and the late George T. Lock. Besides these, two of her nieces and a granddaughter, Mrs. Margaret Catlin, Mrs. Rosalie Powell and Miss Selma Lock received her tender care, and mourn her today as an almost mother.
Mrs. Lock's life was essentially the home life; she lived and worked and planned for her loved ones and like that other Martha whom Jesus loved, she made that home a happy one, in which the fragrance of her memory will never fade. Home and church were her handmaids and with them went a sweet and unobtrusive charity that shed a halo over her life. No one ever heard a harsh word from those gentle lips. Love guided her life. She may not have found "sermons in stones," but always she "found good in everything." She loved children, and if upon her tomb were written the words "Children loved her," it would be but a just tribute. The beautiful Lock playgrounds will always be an enduring monument to her memory, an undying evidence of the loving foresight of that gentle heart now stilled forever. Mrs. Lock was a woman of prayer, and her favorite saying was "Let us make the world a better and brighter world because we have lived in it today." Her last moment of earth as God took her home was sweetly typical of a patient saintly life: her aged sister, Mrs. Fitzenreiter was praying at the bedside; her devoted daughter and granddaughter were bending over her; a bird was singing outside; the dulling ears caught the sound and she began to whisper the words of the litany "The birds of the air sing His praise." Her granddaughter whispered, "Close your eyes, mother," and with a smile on her lips she obeyed and went home.
When I close my eyes in death,
When I rise to worlds unknown,
And behold Thee on Thy throne,
Rock of Ages, cleft for me,
Let me hide myself in Thee.

She is dead; she lives.

MRS. GEORGE LOCK DIES THIS MORNING

--|--

Funeral Services at Family Residence Friday Evening at 5 o'Clock.
Mrs. George Lock, widow of the late Captain George Lock, died this morning at 11 o'clock at her residence on Broad street, following an extended illness. Mrs. Lock was 71 years old. She is survived by two children, Mrs. M. P. Paret and Fred G. Lock, both residents of Lake Charles.
Mrs. Lock was born in New Orleans March 14, 1849, her father Captain Daniel Goos later moved to Lake Charles. She married Captain George Lock in Lake Charles May 15, 1869.
The funeral services will be held at the family residence Friday afternoon at 5 o'clock with Rev. A. R. Edbrooke of New Orleans, former rector of the Church of the Good Shepherd, officiating.
Burial will be made in the Goos family cemetery in Goosport.

FUNERAL OF MRS. LOCK

Revs. Weed and Bullock Conduct Services This Afternoon
The funeral services of Mrs. George Lock will take place from the family residence, 825 Broad street, at 5 o'clock this afternoon, Rev. Caleb B. K. Weed and Rev. Ernest N. Bullock, former and present rectors of the Church of the Good Shepherd, officiating.
Honorary pall bearers for the occasion are: W. J. Martin, Colonel C. H. Moore of Galveston, A. P. Pujo, L. Kaufman, Frank Roberts, N. E. North, C. D. Moss and Samuel Kaufman.
Active pall bearers are: Colonel Bret W. Eddy, Captain Terrell Woosley, Judge T. F. Porter and Scoutmasters P. J. Legendre, Alfred Roberts, A. J. Spengler, David W. Eddy and John H. Martin.
Following the funeral services the body will be interred in the Goos family cemetery at Goosport.

MRS. LOCK ESTATE NEARLY $1,000,000
Heirs Are Mrs. M. P. Paret, Fred G. Lock, Children Late Geo. T. Lock
The children and grandchildren, heirs of Mrs. Ellen Lock, nee Goos, widow of Captain George Lock, are Fred G. Lock, Mrs. Letitia Paret, wife of Milnor P. Paret, and the minor children of George T. Lock, deceased; Delia Joyce Lock, George Thomas Lock and Frank Ray Lock; issue of his marriage with Miss Delia Joyce Moss, now Mrs. (Dr.) Grayson E. Tarkington.
The estate is inherited by these heirs in the proportions of one-third each to Fred G. Lock, Mrs. Letitia Paret, and the remaining one-third to the minor children, in equal proportions, subject to the particular legacies contained in Mrs. Lock's will, published Thursday.
The inventory of the estate has been completed and filed, and shows a gross value of $909,000, consisting almost entirely of stocks, bonds, notes and cash.

MRS. GEORGE LOCK'S WILL PROVIDES FOR A NUMBER OF SPECIAL BEQUESTS

Granddaughter Miss Selma Lock is Left Home Place–
Other Relatives, Friends and Employees Are Remembered.
The will of Mrs. George Lock, probated in district court yesterday, after providing for the settlement of the estate according to law, contains special bequests as follows:
To granddaughter Selma Miller Lock, in addition to her share in the estate is given the income on 30 shares of stock in the Frost-Johnson Lumber company, 5 shares in Edgewood Land & Logging Co., Ltd, $4,000 4¼ Liberty bonds, 2 notes, $1,250 each, Dever Realty company.
To a sister, Barbara Fitzenreiter, $3,000.
To Rosalie Dickie, wife of John Dickie, $2,000.
To Delia Joyce Lock, granddaughter, $1,000.
To other grandchildren and relatives:
George Thomas Lock, $1,000; Frank Ray Lock, $1,000; Milner P. Paret, Jr., $1,000; George Lock Paret, $2,000; Helen Martha Paret, $1,000; Irma Letitia Lock, $2,000; Elaine Benckenstein, $100; Florence Beatty, $1,000; Annie Beatty, $1,000.
In a codicil dated February 11, 1921, before C. R. Liskow, Selma Miller Lock, a granddaughter, is left the Lock home place, corner Reid and Broad streets, with all buildings and improvements thereon, together with specified house furnishings, and a Marmon automobile.
To Miss Maude Jenkins and Mrs. Betty Joseph, the sum of $100 each is bequeathed.
To Jack Perkins, a Dodge truck, and to Robert Gayden $50.
A. P. Pujo is named executor in the will, which was dated August 2, 1919, without bond.
An inventory of the estate is being made today by Deputy Clerk Andrus.