Elaine Matilda Tieman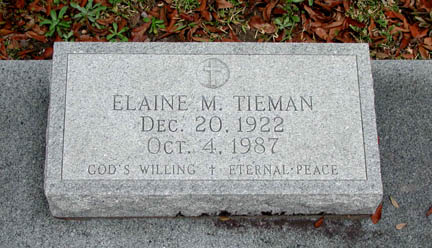 Lake Charles American Press, October 5, 1987:
MISS ELAINE M. TIEMAN
Funeral services for Miss Elaine M. Tieman, 64, will be at 2 p. m. today, Oct. 5, in the Episcopal Church of the Good Shepherd.
Burial will be in Goos Cemetery at Goosport under direction of Hixson Funeral Home.
There will be no visitation at the funeral home.
Miss Tieman died at 1:25 a.m. Sunday in her residence.
She was a retired librarian at McNeese State University and a former teacher in Calcasieu Parish schools. She was a member of the Retired Teachers Association, Louisiana Librarians Association and Delta Kappa Gamma.
Survivors are one niece and a great-nephew.