Della Moeling Goos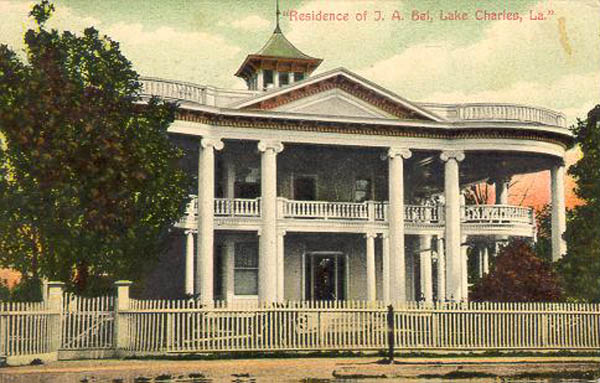 J. A. Bel Residence

BEL-GOOS WEDDING
The wedding festivities, at the residence of Capt. Daniel Goos, last Wednesday night on the occasion of the marriage of J. Albert Bel, Esq., to Miss Della M. Goos, will always be remembered with pleasure by the invited guests, of whom there were somewhere between one and two hundred. Music, dancing, refreshments and social conversation, made the long winter night seem very short, and it was nearly day-light before the steamer Pearl Rivers bore the last remaining guests away. Capt. Goos and his amiable Wife have fifteen or sixteen living children, all issue of the same marriage, Mrs. Bel being the eighth married daughter, and Misses Catherine and Marie remaining to enliven the spacious family mansion at Goosport some day with a repetition of those wedding festivities which are always so pleasant there.


Lake Charles American Press, Monday, May 7, 1934:
MRS. J. A. BEL
WIDELY KNOWN AND LOVED, DEAD
Succumbed to Brief Illness Last Night.
FUNERAL AT HOME TOMORROW AFTERNOON.
Widespread Sorrow Prevails at Death of Philanthropist, Benefactress.
Universal sorrow spread through Lake Charles and the surrounding country today at news of the death of Mrs. J. A. Bel, well known and loved throughout this section, which occurred at 12:55 this morning, at her home, 527 Mill street, after a week's illness.
Mrs. Bel, a life-long resident of Lake Charles, and a member of one of the oldest and largest pioneer families of this section, was stricken a week ago Saturday, with a cerebral hemorrhage, from which she never regained consciousness, remaining in a coma until her death.
Funeral services will be held Tuesday afternoon at 4 o'clock at the home, the Rev. Father Gaudin, of the Church of the Immaculate Conception, officiating, Burke & Trotti in charge. Interment will be in the family mausoleum in Orange Grove cemetery.
The pallbearers will be J. Albert Bel, R. E. Krause, Harry C. Hanszen, Albert Bel Goos, Lock Paret, Charles Fitzenreiter, Dr. Olin W. Moss, J. R. Green, Dr. R. G. Holcombe, Charles H. Benckenstein.
With Mrs. Bel at the time of her death were her daughter, Mrs. Harry C. Hanszen of Houston and Mrs. Ernest Bel of Lake Charles, both of whom were with her constantly during her illness, together with other members of the family and close personal friends.
Messages of condolence were being received today by the family from all parts of this section and callers at the Bel home, including people from all walks of life, came to pay their tribute of affection and respect.
Mrs. Bel reached her 72nd. birthday last Jan. 20. Born in Lake Charles she had lived here all her life. She is survived by a large family connection.
MEMBER PIONEER FAMILY
Della M. Goos was one of a family of 15 children of Captain Daniel Goos and Katherine Moeling Goos. Goosport was named for her father, who was one of the early settlers here, a prominent lumberman in the days when this was a young lumber town and the Calcasieu river was busy with lumber traffic. He operated a number of schooners in transporting the products of his mill. The Goos home was a center of the social life and hospitality of the town.
The Lake Charles Echo, in its weekly issue of Friday, December 20, published an account of the marriage of Della M. Goos to J. Albert Bel at the home of the bride's parents in Goosport on Wed. Dec. 17, 1879, the Rev. Father M. Kelly, officiating.
Mrs. Bel was preceded in death by her nine sisters – Mrs. Babette Fitzenreiter, Mrs. Nellie Lock, Mrs. Rosalie Wachsen, Mrs. Medora Jessen, Mrs. Fredrica Perkins, Mrs. Katherine Flanders, Mrs. Marie Williams, Mrs. Emma Richards, and Mrs. Georgie Timmins.
Three brothers, Walter and Fred Goos of Lake Charles, and Albert Goos of Goos' ferry, a few miles north of Lake Charles survive. Dan and Christian, two older brothers, died a number of years ago.
Mrs. Bel is survived by one daughter, Mrs. Harry C. Hanszen of Houston. A son, Ernest Bel and another daughter, Mrs. Marie Bel Fay have died.
There are seven grandchildren surviving – J. Albert Bel and Mrs. R. E. Krause of Lake Charles, Katherine Bel Gardiner, now a student at Smith college, Northampton, Mass., Marie Bel Gardiner and Jimmy Gardiner, all of Houston, and Albert Bel Fay and Ernest Bel Fay, students at Yale and Harvard, who also live at Houston.
There are also two great-grandchildren, Della Bel Krause and Katherine Bel Krause, children of Mrs. and Mrs. R. E. Krause of Lake Charles.
Her husband, the late J. A. Bel, carved for himself an outstanding career which began in a small way as an employee in a saw mill which later became the J. A. Bel mill. He brought this mill up to one of the most signal successes in the lumbering industry and with it he gained renown and fortune in lumber circles. He was engaged in vast enterprises and was interested in many projects.
Mrs. Bel was bereaved in 1918 by the death of her son, Ernest on Dec. 14, and by her husband one week later, on Dec. 20. Through all the intervening years their memory was ever fresh in her mind.
One of her gifts which has probably given the greatest pleasure to the greatest number of persons is the memorial organ in the Masonic temple, one of the finest in the state, which she gave in memory of her son and father, members of the order.
PHILANTHROPIST
She was one of Louisiana's wealthiest women, yet despite the many business cares with which her wealth encumbered her, and the many demands on her time made by her business interests, she always found time to devote to her numerous charities and these formed one of her chief pleasures in life. She declined to have in intermediary interview persons calling on her for aid, insisting that she see them personally. She listened sympathetically and understandingly to their troubles. Their problems became her's and she went to work to solve them.
One large auto was kept mainly for the purpose of conveying groceries, clothing and household supplies to people in need. She herself went on these visits of mercy. When stricken with the stroke which proved fatal, more than one week ago, at 11:30 o'clock in the morning, the car was standing ready, having just been filled with supplies, the chauffeur having instructions to be ready to start at 1 o'clock on one of these frequent trips.
Mrs. Bel had a special sympathy for needy incurables. There are numerous such cases where she not only looked after their needs in food and medicine but employed someone to take care of them, and built an addition to their homes for their further comfort. Many were the women or children, suffering from illness, who needed an operation or hospital treatment to recover and could not afford it, who had their bills paid by Mrs. Bel, and so found their way back to health.
Upon occasions, she visited the hospital, remaining in the room she had engaged for the sufferers, and awaited the outcome of the operation.
The later visits of some of these beneficiaries to her home, after the recovery of their health, were occasions of great joy to her. Often they brought little tributes of flowers and farm products to show their appreciation for her kindness. She was always deeply affected by this gratitude.
The vast extent of her various charities was known, doubtlessly, only to Mrs. Bel herself.
HELPED THE AGED
She was especially touched by old women, in need, and came to the relief of all of whom she heard. Never would she allow burial in a pauper's grave, if she knew about it, of any aged woman who had died without funds. Even if the woman were a stranger to her, she would offer to pay all expenses. She would reproach friends knowing of such instances, for not bringing the plight to her attention.
Hers was a deeply religious nature and she was a firm believer in prayer – always for someone else. Her philosophy of life was one that enabled her to bear up well under suffering. When her loved ones were taken from her by death she faced her sorrow bravely, telling her friends, "God took them because He had need of them."
HOME LIFE
Her outstanding trait in her home life, as well as in her contact with the outside world, was her absolute unselfishness, her giving of herself to others. She took homemaking as the serious work of her life. She made home the center of the family's interest. It was her practice to have family gatherings – not just on special occasions – but every Sunday, with all the members who could possibly be there being present for Sunday dinner. Anniversaries were family occasions to be always remembered, with the observance of everybody's birthday, from the grandchildren on up, being most happy affairs.
She will be long remembered, and widely missed.