Daniel Wesley Goos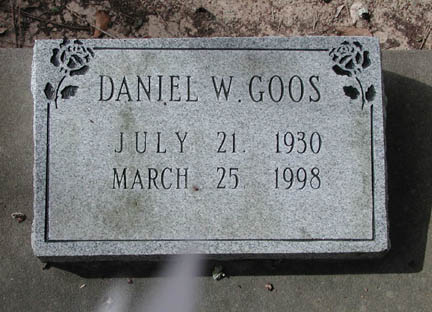 | | |
| --- | --- |
| Born: | July 21, 1930 in Goos's Ferry, Lake Charles, Louisiana |
| Died: | March 25, 1998 in Moss Bluff, Louisiana |
| Buried: | March 27, 1998 in Goos Cemetery, Lake Charles, Louisiana (Map 12) |
| | |
| Father: | Leno Fred Goos |
| Mother: | Edna Kelley |
| | |
| | |
Lake Charles American Press, March 26, 1998, p. 2:
Daniel W. Goos
Graveside services for Daniel Wesley Goos, 67, will be at 11 a.m. Friday, March 27, in Goos Cemetery under direction of Hixson Funeral Home of Moss Bluff.
Dr. Andy Buckley will officiate.
Visitation is from 4-10 p.m. today in the funeral home.
Mr. Goos died Wednesday, March 25, 1998, at his residence.
A native of Goos Ferry, he was a longtime resident of Lake Charles. He worked as a carpenter in pipeline construction. He was an Army veteran of the Korean Conflict.
Survivors include one brother, Gordon Goos of Lake Charles; and two sisters, Pauline Daugherty and Patsy Ruth Hornsby, both of Lake Charles.