Clara Fitzenreiter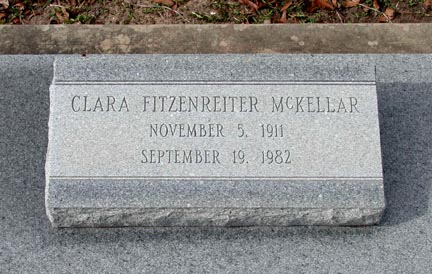 | | |
| --- | --- |
| Born: | November 5, 1911 in Lake Charles, Louisiana |
| Died: | September 19, 1982 in Houston, Texas |
| Buried: | September 21, 1982 in Goos Cemetery, Lake Charles, Louisiana (Map 10) |
| | |
| Father: | Charles Francis Fitzenreiter |
| Mother: | Clara Feagin |
| | |
| Husband: | Harold Duggan McKellar |
| | |
| Married: | April 18, 1970 in First United Methodist Church, Lake Charles, Louisiana |
| | |
| | |
Lake Charles American Press, September 21, 1982:
McKellar services are today
Funeral services for Mrs. Harold D. (Clara Fitzenreiter) McKellar, 70, will be at 2 p.m. today, Sept. 21, in Hixson Funeral Home Chapel.
Dr. Carl Lueg, pastor emeritus of First Methodist Church, will officiate. Burial will be in Goos Cemetery.
Mrs. McKellar died Sunday morning in a Houston hospital.
Born in Lake Charles into one of Calcasieu Parish's pioneer families, she was a great-granddaughter of Capt. Daniel Goos. She was graduated from Lake Charles High School and Southwestern Louisiana Institute (now USL) and was a teacher in Calcasieu Parish for almost 40 years at LaGrange Junior High School.
In later years before retirement, she taught at Marion High School.
She was an active member of the First Methodist Church throughout her life until moving to Houston with her husband after their marriage in April, 1970.
She is survived by her husband.
If they wish, friends may make memorial contributions to the American Cancer Society, American Heart Association or the First United Methodist Church, the family said.
Pallbearers will be J. B. Chesson, Wayne Cusic, Monty Hall, Dr. Robert C. Looney, Dr. Charles B. Woodard and Dr. James F. Woodard. Maxwell Chesson and Dr. Boyd Woodard will be honorary pallbearers.