Bessie Gertrude Fitzenreiter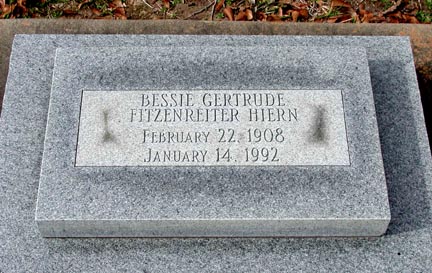 | | |
| --- | --- |
| Born: | February 22, 1908 in Lake Charles, Louisiana |
| Died: | January 14, 1992 in Lake Charles, Louisiana |
| Buried: | January 16, 1992 in Goos Cemetery, Lake Charles, Louisiana (Map 10) |
| | |
| Father: | Charles Francis Fitzenreiter |
| Mother: | Bessie Gertrude Davis |
| | |
| Husband: | Henry Larguier Hiern |
| | |
| Married: | July 26, 1929 in Most Holy Name of Jesus Church, Loyola University, New Orleans, Louisiana |
| | |
| Children: | Barrie Christopher Hiern, Sr., M.D. |
| | |
| | |

Lake Charles American Press, Monday, July 29, 1929, p. 4:
HIERN-FITZENREITER
Mr. and Mrs. C. F. Fitzenreiter announce the marriage of their daughter, Bessie, to Mr. Harry Larguier Hiern, the wedding taking place at the Jesuit church in New Orleans July 26.
The young couple will make their home in New Orleans. The bride is a charming young girl, loved and admired by a large circle of relatives and friends in Lake Charles. She is a graduate of the Lake Charles high school and graduated in the spring from Newcomb college.
Mr. and Mrs. Hiern arrived in Lake Charles Monday for a week's visit with the bride's parents, Mr. and Mrs. C. F. Fitzenreiter.


Chicago Sunday Tribune, April 20, 1952

Lake Charles American Press, January 15, 1992, p. 2:
MRS. BESSIE F. HIERN
Funeral services for Mrs. Bessie Fitzenreiter Hiern, 82, will be at 1 p.m. Thursday, Jan. 16, in Hixson Funeral Home.
The Rev. Aubrey Guilbeau will officiate. Burial will be in Goos Cemetery.
Visitation will be from 4-8 p.m. today with a 6:30 p.m. rosary, and from 8 a.m. Thursday.
Mrs. Hiern died Tuesday, Jan. 14, 1992, in a local hospital.
A native of Lake Charles, she was a descendant of Captain and Mrs. Daniel Goos. She was a retired teacher and had owned and operated the Bessie F. Hiern School in New Orleans. She was a member of Immaculate Conception Cathedral.
Survivors are one son, Dr. Barrie C. Hiern of Carrollton, Ga., two grandchildren and two great-grandchildren.